Oww-uucc-h.

After the continuous silent ouch for pain, I somehow was struck with a feeling of - "Hey, it's a

Nike

..." Well, the thought did not came right after the ouch, but it came gradually when I noticed my left thigh - the source of the ouch, gradually shows a Nike logo.

My patch of skin gradually look darker than the rest, revealing a Nike-lookalike wound, just like when we used the '

burn

' tool in photoshop, but now I did it non-digitally, by using an iron.

Nike, the popular sports apparel brand, is named after a Greek Goddess of Victory and Strength. Now I have Nike on my left thigh, and now the Goddess of Victory keeps shouting "

Just Do It!

" to me. Heh.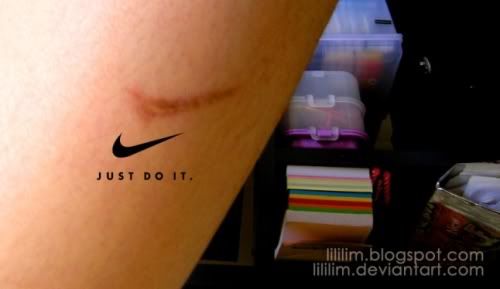 The

significance

of the wound means a lot to me, because I have recently made some resolutions for my coming semester, which I need to have a tough and a strong heart so that I will not freak out (again) while facing the coming challenges. This somehow, by

coincidence

, matches with Nike's slogan, "Just Do It". I guess this is the slogan I need, and by just doing it, I will have

strength

and gain

victory

in overcoming my fear and weaknesses, psychologically and spiritually.

I do not know how to express my gratefulness and appreciation to

God

for loving me always, and slowly teaching and guiding me to love Him and the others, by giving me the chance to love (sincerely and deeply) my family, and my significant other (Jacky!) as well. Everything turns awful when we forgot to love, love (or you may called it

passion

) is needed to succeed, whether it is loving your family, friends, bosses, colleagues, assignments, jobs, journeys and everything in our life. A life without passion is like... umm... an alarm clock who is a mute.

God bless everyone who believes in

love

and

miracle

.




Side note:

1 Nike and its logo is the property of Nike, Inc.

2 The scalding incident happened on 11th October (if I've not mistaken), I've drafted this some time ago, but just hadn't get my photos done yet, so explains the delay.

3 There used to be quite a few paragraphs in my draft post mentioning about my

resolutions

and

discoveries

of my own changes through time, but it turned out rather long, so I shall save it for later.